Zwik Designer (ZD) - Help Menu
Help is under construction – thank you for your patience.
Color Accuracy
Price Calculation
Price Calculations Based On Number of Colors
Uploading Your Design Files
Saving Your Design Files
Product Info
Templates
Layers
Text
Cliparts
Shapes
Images
Drawing
2.1  Crop Image
2.2  Fill color for image or text
2.3  Add product to cart
2.4  Change printing method (if avail)
2.5  Change product color and quantity
2.6  Import/export designs (if avail)
2.7  Move layers up or down
2.8  Print designs (if avail)
2.9  Switch to another product
2.10  Image filter effects
2.11  Make curved text
2.12  Remove image background
2.13  Text with mask background
COLOR ACCURACY:  We have loaded the apparel manufacturers' Pantone PMS color codes as they have provided, along with their color name definitions. Unfortunately (especially with Heather colors), these computer generated colors that are useful for design mockups are not as accurate as photographs of fabric swatches or of the actual garment.
Please refer to manufacturers' color swatches for the most accurate color representations on this website, or to product photographs.
In any case, due to individual variations in your device's monitor and display properties, we can not be responsible for color variances between graphic representations and physical products.
Please contact us if you require exact Pantone PMS color matching (e.g. for logo design printing). Extra fees may apply.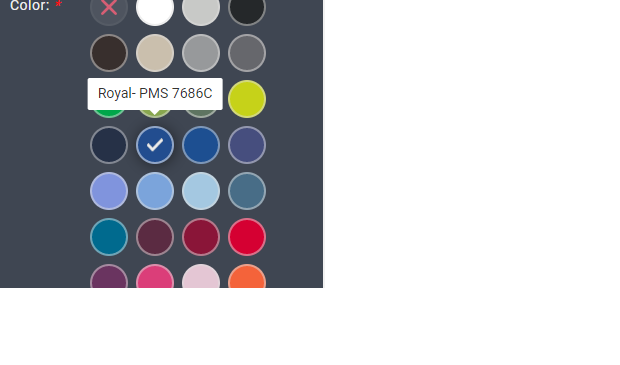 The base price for your selected product may vary by color and size within the SKU.  You can mouseover the color swatches and sizes at the bottom of the "PRODUCTS" tab to see the upcharge from the initial base price at top of the "PRODUCT" tab.
Custom printing fees are added separately.
To view the current pricing calculation for your item in Zwik Designer, click the link labeled "Price calculation formula" on the bottom of the "PRODUCT" information pane. (Click on the "PRODUCT" tab to view the product information pane.) You may have to scroll down to the very bottom to see the link "Price calculation formula".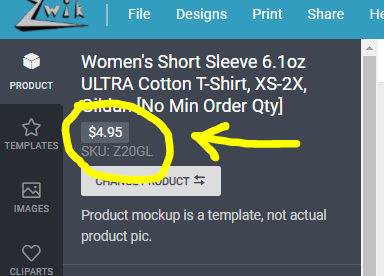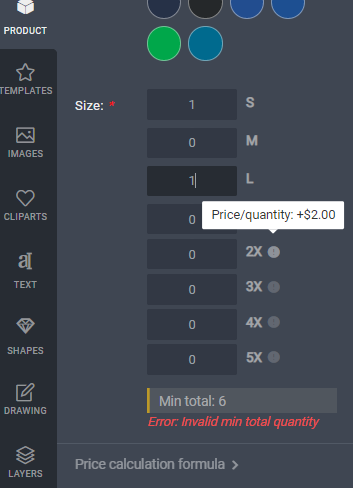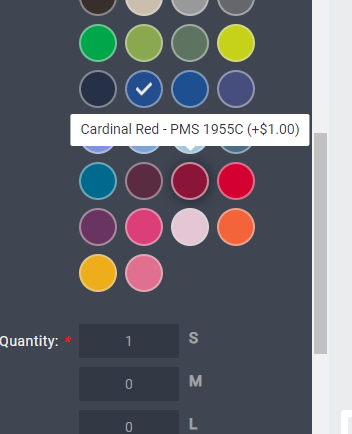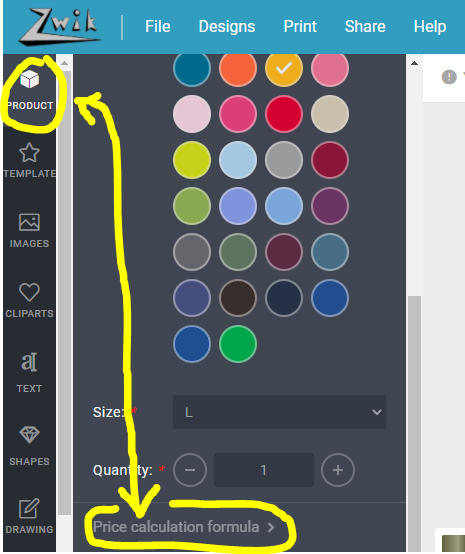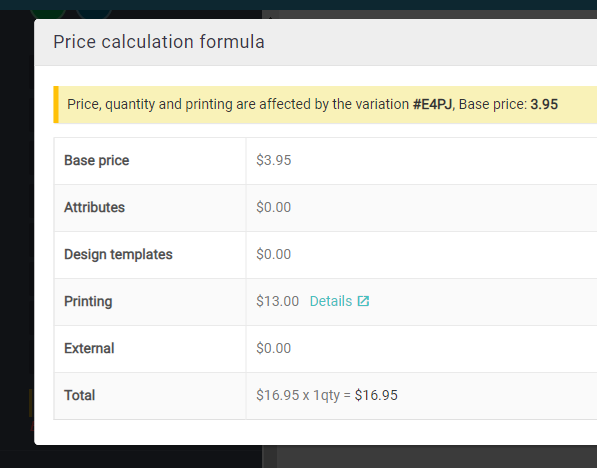 NUMBER OF COLORS USED IN DESIGN
Hover over the rectangle on the lower left corner of the design area to view the number of colors used in the design.
NOTE: WE ARE AWARE THAT IN THIS BETA VERSION PRICING BASED ON COLOR COUNTING MAY BE INACCURATE.  All orders will be manually upon receipt reviewed and prices will be corrected if needed.  We apologize for any inconvenience.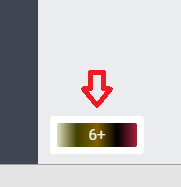 UPLOADING YOUR DESIGN FILES
To use your own graphics file in Zwik Designer, upload through the "IMAGES" tab.
Be sure you are logged in to return to your account.  Save your design through the "Designs" menu for future use.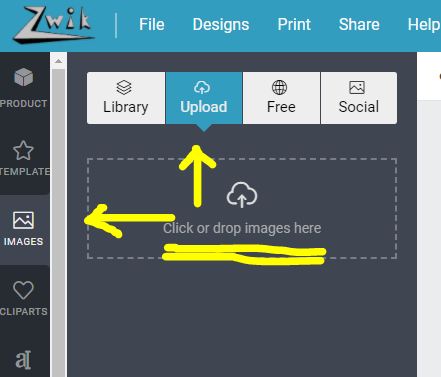 Save your designs to "MyDesigns" to apply to different product colors or other products in the future.  Access through "Designs" on the menu. MyDesigns may be stored to your local device, not to your account online.  Your design is also saves to your shopping cart online when you are logged in.
The Zwik Designer customization tool allows you to upload, create and/or edit your custom design and view it on a product mockup (not an actual photo of the base product, but a template).
Zwik Designer allows you to add text, images, clipart and other artistic elements to the apparel base product you choose. Zwik Designer includes libraries of full color images, editable templates, extensive clipart, shapes, flexible fonts, and a freehand drawing feature.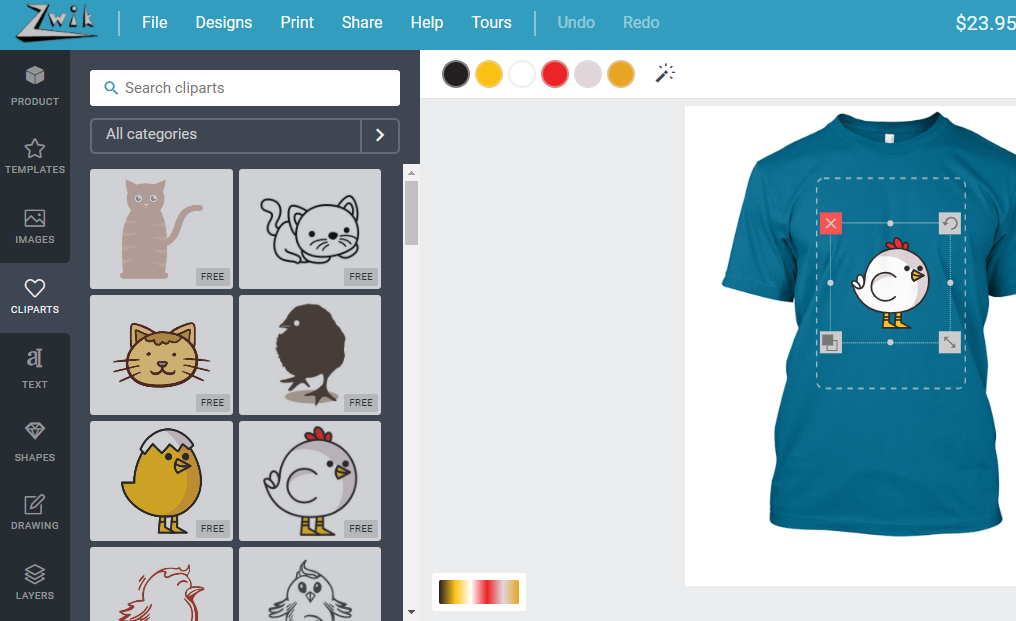 These features can be found through the "Resource Tabs".
There is a "Layers" tab to help you sort out and edit various elements of your design, if needed.
You will also be able to view product info and attributes for your apparel item, such as colors, sizes, and prices and view information on printing as well. ("Product" tab)
Then you can place the finished item in your shopping cart with the comfort of knowing that you'll get the design you want!
While you can change the active base product from within Zwik Designer, it is best to select a customizable product from the website first. The website catalog listing of the product will give you the most product information and accurate photos.  The product images in Zwik Designer for mockups are templates similar to the product, but not phots of the exact product.
These are the main parts of Zwik Designer:

Change product selection from within Zwik Designer