Direct to Film (DTF) - Custom Transfer Prints
Upload your artwork through our Zwik Designer tool's "images" tab, or create/edit your artwork directly in Zwik Designer.
We produce your DTF transfer using the highest quality inks, adhesive coating, and PET film.
Use a commercial heat press to DIY heat transfer the DTF film onto your apparel.
Excellent Color,
Stretchability &
Durability
REQUIRES
COMMERCIAL
HEAT PRESS
Print area: 8.25″x 8.75″             

@$3.97/sheet




(Film: A4, 8.25″ x 11.75″)

Print area:

11.7″x13.5″                 

@$6.95/sheet




(Film: A3, 11.7″ x 16.5″)

Print area: 13″x16″                       

@$7.97/sheet


(Film:

A3+, 13″ x 19″)   
Shipping/Handling
FREE SHIPPING for orders $150 and over,
 USPS Priority
$12.95 for all orders less than $150, USPS Priority
Turnaround Time
Orders up to 20 DTF sheets will ship within 3 business days.  Please allow up to 10 business days for large orders.   Expedited service: (option coming soon)
Gang Sheets
You may create your own gang sheets, no additional charge.  We do not cut and trim apart.
Low Quality Artwork – No Refunds
No refunds as a result of low quality original (submitted) artwork.
Preheat press to 315 degrees (F).
Pre-press material for 5 seconds to remove moisture.
Align the transfer where you want it.
Press with medium-heavy pressure for 12-15 seconds. (315F)
Let the DTF transfer cool, then peel in a single, smooth motion.
Second press benefits softer hand feel and durability.  Cover the transfer with kraft paper and press for 5-8 seconds. 
We:
Print the artwork exactly as submitted

Print file as sized when received

Preserve transparent background
You:
Upload graphic file into Zwik Designer tool ("Images tab"), or create new.

SVG file format preferred to upload.

PNG file is good if resolution good (see bullet point below on resolution).

Other file formats are discouraged, although JPG and BMP may be uploaded into the Zwik Designer tool and will be accepted.

Set background to transparent or it will be printed.

Change transparent colors to be printed to spot colors (

recommended).

300ppi recommended at full image print size (can SOMETIMES get acceptable results with lower resolution DEPENDING ON SPECIFIC ARTWORK detail and colors – AT YOUR RISK 150ppi minimum).

MIRROR the image for printing.

Convert all text to curves (we won't search for fonts).

Avoid large solid areas (for softer feel).

Specify desired print size in "Order notes" at purchase checkout.

REQUIRED: Commercial heat press, not household iron.
Artwork Services
Limited artwork services available starting at $20.
Submit Artwork – Zwik Designer
Click the "Customize" button from within the item listing to use our free online Zwik Designer tool.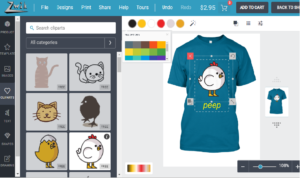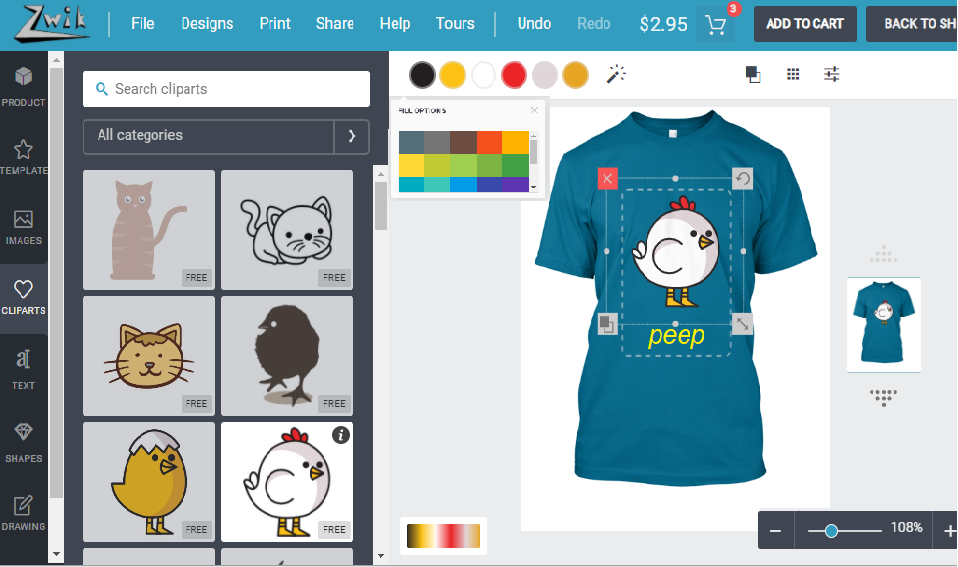 Zwik Designer
Upload your artwork through the "images" tab in Zwik Designer, or use the tool to create and edit a new design, or email us your artwork.
Choose from a huge library of editable templates, images and artwork as a starting point or as finished designs.
Zwik Designer has many great powerful features and is easy to use.